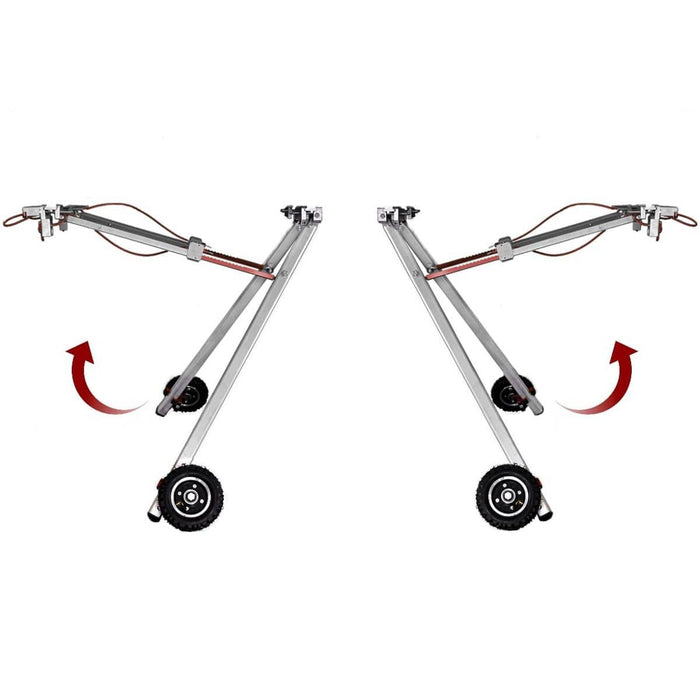 Collapsible Stand For Modular Brake
For InnovaTools Modular Brake
Each leg of our Collapsible Sheet Metal Brake stand can be set independently and is angled and reinforced to provide maximum stability.
✅ EXCLUSIVE: Permanent + Collapsible Stand

• Install It & Forget It - Once installed, it stays attached to your brake.
• Fully Collapsible - The legs can fully retract to tuck and lock into place underneath the bender.
✅ UPGRADE: Fully Mobile Stand

• Allows For Mobility - Optional wheel kit allows to move the brake around or in and out of your vehicle without help and without lifting.
• Airless Wheels - Foam-filled wheels spare you the trouble of flat tires.
• Easy Wheel Install - The wheels can be installed literally in seconds.
• Flexible Wheel Positioning - Install anywhere up or down the legs and inside the legs for max clearance or outside the legs for max stability.

✅ All In The Legs: Solid & Fully Adjustable

• Adjust To Your Height - Set at will to a personalized height that suits you anywhere between 32" and 41".
• Always Level - Each leg's angle can be independently set to make sure the brake is always level on uneven ground.
• Angled Legs = Increased Rigidity - Legs have side-to-side and front-to-back angle making the stand very sturdy on all sorts of terrain.
• Sturdy - High quality components and good design make for a solid and durable construction rated to support over 1000 lbs.